College of Arts and Sciences Alumni Awards
Each year the college honors exceptional alumni who have made a significant mark on their professions, communities and UC. Honorees are nominated by their fellow alumni or faculty and chosen by the college. Four awards are formally celebrated each spring as part of our newly redesigned – A Night with A&S. 
We have a rolling nomination process, and you are able to nominate an A&S alumnus year-round. All nominations received by August 1 will be considered for the upcoming year's award cycle and any nominations received afterward will be held over until the following year. We also retain all previous nominations on file for three years.

We encourage you to review the award descriptions and use the form below to make a nomination.
Distinguished Alumni Award: An established alumnus who is outstanding in their chosen field of endeavor and has made significant contributions that benefit the community, state, nation, college or university. Ideally, this person has been actively involved in the betterment of the UC community. 
Philanthropist of the Year: An alumnus who has been highly engaged in philanthropic activities at the College of Arts and Sciences or made a significant impact in the college.
Special Achievement: This award is given to an alumnus of the College of Arts and Sciences on the basis of notable achievement in their field, continued service, and involvement with the university and community. 
Outstanding Young Alumni Award: An alumnus who graduated within the last decade with significant achievements within their chosen field of endeavor, and who is also actively involved with UC in some capacity.
Nominate a UC A&S Alumnus
Please complete the form below to nominate a deserving candidate for a College of Arts & Sciences Alumni Award.
All nominations are kept on file and will be automatically reconsidered each year for up to three years.
Distinguished Alumni Award – Shakila Tanveer Ahmad '82, Mathematics
Each year, the Distinguished Alumni Award is given to an established alumnus in recognition of their outstanding accomplishments in their chosen field, and their significant contributions benefiting their community, state, nation, college or university.
The 2023 Distinguished Alumni Award for the UC College of Arts and Sciences goes to Mrs. Shakila Tanveer Ahmad, a 1982 graduate from the mathematics program.

Shakila Ahmad is an enthusiastic community leader who has dedicated herself for over 25 years to numerous civic and community causes, and to building peace and understanding. She is starting her role as Board Chair of Cincinnati COMPASS where she connects immigrants and the community for a larger purpose. Joining the Islamic Center of Greater Cincinnati (ICGC) as its youngest member in 1995, she recently served for five years as Board Chair and President for the Center — the first woman to serve in this capacity nationally.
She established ICGC's Tours and Talks, a program that has reached more than 100,000 people in its mission is to educate members of the community about Islam and Muslims. She spearheaded the creation of an educational DVD, "A Visit to a Mosque in America,"' to increase understanding of Islam and the Muslim community in the United States. This award-winning short film has aired nationally and internationally and continues to be used in academic, business, faith and law enforcement communities.
Ahmad was the founding Chair of ICGC's Muslim Mothers Against Violence initiative and the Bullies & Victims program as the President of the Academy of Medicine Alliance of Cincinnati. She is a dedicated supporter of interfaith and outreach efforts and has served as Board Chair of BRIDGES for a Just Community and subsequent human relations work under EQUASION.
Though her groundbreaking work began pre-9/11, she subsequently stepped up her efforts through law enforcement cultural competency and was instrumental in establishing an FBI MultiCultural Advisory Task Force to better serve the needs of minority communities in their relationship with the FBI. She was recognized at the national level with the FBI Community Leadership Award.
Ahmad has served on national boards including the Muslim Jewish Advisory Council (MJAC), the Islamic Networks Group, the National Underground Railroad Freedom Center, the Ohio Humanities Council, YWCA Greater Cincinnati, the United Way of Greater Cincinnati, Xavier University, Thomas More Institute of Religious Liberty, and the University of Cincinnati Foundation.
Ahmad frequently gives her time, talent and treasure to the community and her alma mater, serving on the UC Foundation board and since 2015, and on the UC Bicentennial Community Connections Committee. She was instrumental in setting up the Malik Islamic Studies Professorship at the College of Arts and Sciences, setting the stage for educating generations to come.
Ahmad's awards for civic and community engagement include the 2001 Cincinnati Enquirer Woman of the Year, the 2014 Women to Watch, 2014 Lighthouse Beacon of Light Humanitarian Award, 2015 Leadership Cincinnati Distinguished Alumni, 2016 Hebrew Union College Friendship Award, 2018 YWCA Racial Justice Award and an honorary PhD from Mount St. Joseph University in 2019.
Ahmad has also had a professional career as the Business Director at the Allergy & Asthma Specialty Center before transitioning the organization to a large national group after 30 years of management.
Philanthropist of the Year
The Philanthropist of the Year Award is given to an alumnus who has been highly engaged in philanthropic activities at the College of Arts and Sciences or made a significant impact in the college.
The 2023 Philanthropist of the Year Award goes to Richard and Burton Roehr. Each are 1959 grads — Dick in Business Administration from the Lindner College of Business and Burt in Early European History from the College of Arts and Sciences.

After Burt graduated from UC, she earned her Master's in Library Science from the University of Michigan and became a medical librarian at Cincinnati's General Hospital. When the couple had children, Burt stayed home with the girls yet volunteered in the community supporting numerous causes, also holding various jobs along the way, while Dick pursued a career in the insurance industry.
The Roehrs' philanthropy with the University of Cincinnati began long ago. Before becoming members of the Herman Schneider Legacy Society, they established scholarships for first-generation college students in both of their home colleges.
When Dick retired from Fortis Benefits in 1996, the company awarded him $10,000 for a UC endowment. When asked the reason for their ongoing support of UC, Dick and Burt said, "We truly understand the need and are pleased that we can continue to provide financial assistance to students at UC. We were both very active while we attended UC and made terrific friends we still see and visit. UC gave us a lot, and we want to contribute to the positive experience of others."
The Roehrs live in Montgomery. Their two daughters pursued careers in education and have given Dick and Burt three grandchildren. 
This award is given to an alumnus of the College of Arts and Sciences for notable achievement in their field, continued service, and involvement with the university and community.
The 2023 Special Achievement Award goes to Dr. William A. Van Wie, who earned his master's and doctoral degrees from the Department of Geology in 1971 and 1976, respectively.

Originally from Albany, N.Y., Van Wie attended St. Lawrence University, earning a bachelor's degree in Geology in 1967. Afterward, he was accepted to study Sedimentology at the University of Cincinnati.
Van Wie received financial support from teaching assistantships, research grants and fellowships, facilitating his study under professors Wayne Pryor, Paul Potter, Warren Huff and Kenneth Caster.
Van Wie knew he wanted to be a geologist early on, becoming immediately enamored with the field upon taking his first course at St. Lawrence. After speaking with colleagues, he knew he needed to pursue advanced degrees and was encouraged to consider UC for its highly regarded geology program.
After earning his doctorate, he began working with the West Virginia Geological and Economic Survey. He pondered whether his career would eventually continue in academia or industry. Fatefully, Wayne Pryor, his old UC professor, introduced Van Wie to someone at Tenneco Oil Company. A job offer followed, setting Van Wie on his new career in the oil industry. The work wasn't easy, he found the opportunity to see important new things through to be exhilarating. Eventually he worked for industry leaders such as Chevron, Pennzoil and Amerada Hess before joining Devon Energy Corp. in 1999. He eventually rose to Senior Vice President, a role he held until retirement in 2010. Van Wie currently serves his profession as an advisory board member for the American Geosciences Institute, is a former board member of the National Ocean Industries Association, and a former Vice Chair of the Independent Petroleum Association for the American Association of Petroleum Geologists.
Van Wie's most notable career achievement was being part of several oil and gas discoveries in the Gulf of Mexico where he participated in the industry transition from drilling on the shelf and moving into deeper waters exceeding 10,000 feet. Utilizing innovations in geophysics and engineering enabled industry to expand the Countries resource base to great levels. It was this application of technology to exploring and producing oil and gas that excited him most. 
Though Van Wie made many contributions in his professional field, he has always found time to support his local community. He has been a leader of several organizations in the Houston area, including as a member of the Boards of Directors for the Boys & Girls Club of Greater Houston and the Salvation Army. He is currently on the Board of Trustees for Trees for Houston, having previously served as President and Chair. Trees for Houston plants 50,000 tree per year in the Houston area. 
Outstanding Young Alumni Award
The Outstanding Young Alumni Award is given to an alumnus who graduated within the last decade with significant achievements within their chosen field of endeavor, and who is also actively involved with UC in some capacity.
The 2023 Outstanding Young Alumni Award goes to Ashley Nkadi, a 2016 Cincinnatus Presidential Scholar graduate who earned a bachelor's degree in neuroscience.

As an undergrad student, Nkadi held leadership positions in numerous organizations, including president of UC's chapter of Omicron Delta Kappa and United Black Student Association. She was a Student Government campaign manager for Mitchell Phelps and Brooke Duncan. She founded and was the editor-in-chief for Noir Magazine, and finally, the co-founder of "The Irate 8," a student-activist movement on UC's campus in response to the fatal police shooting of Samuel Dubose.
Nkadi's interest in social justice catalyzed when she co-founded The Irate 8. Now, she leverages her background in neuroscience, digital strategy, organizing, and DEI to create strategic communications and digital content for organizations, businesses, campaigns and universities.
Even before graduation, Nkadi was publicly speaking, hosting workshops and participating in panels about activism, social injustices and racial equality. Organizations she has spoken to include the Cincinnati Social Media Week, the NAACP, The Diversity and Inclusion Conference, Miami University and the Student Government Fall Retreat.
After graduation, Nkadi worked and organized with Black Youth Project 100 as a Communications Manager and at the Movement for Black Lives (M4BL) as a Digital Strategist. In her work with M4BL, she served as the digital lead on the BREATHE Act, a modern-day Civil Rights Act. During this time, Nkadi was also crowned Miss Black Ohio.
Currently, Nkadi writes about social justice, identity, race and politics for publications such as GQ, Playboy, Teen Vogue, The Root and Essence Magazine.
She now attends the University of Cincinnati College of Law, where she serves as the Student Bar Association President, a structured study group leader, and a fellow at the Nathaniel R. Jones Center for Race, Gender, and Social Justice. She will start her legal career after graduation as an Intellectual Property Associate at Frost Brown Todd, an AM200 law firm.
Nkadi's work has been recognized in the classroom, across UC's campus and beyond. She has numerous awards for her stellar academic performance and student involvement. In 2016, she was awarded the Student Trailblazer Award at the Onyx & Ruby Gala hosted by the UC Alumni Association's African American Alumni Affiliate. She has also received the Marian Spencer Equity Ambassador Award in 2017; the Leisan Smith Founders Award from the LGBTQ Center in 2017; and was a 30 Under 30 Award winner in 2020. 
2023
Shakila Ahmad '84, Mathematics, Distinguished Alumni Award
Burton (A&S '59) and Richard (Bus '59) Roehr, Philanthropist of the Year Award
William Van Wie, PhD '71, '76, Geology, Special Achievement Award
Ashley Nkadi '16, Neuroscience, Outstanding Young Alumni Award
2021 - 2022
Darlene R. Walley, PhD '84, Distinguished Alumni Award
Shannon E. Finn Connell '92, Philanthropist of the Year Award
Charles J. Barnett '71, Special Achievement Award
Brande Victorian '07, Outstanding Young Alumni Award
2020
Event was not held due to pandemic.
2019
William C. Judd, Biology and Biochemistry '14
Maurice B. Stewart, Organizational Leadership '16
John S. Michelman, PhD, Chemistry '60
2018
Doug van der Zee '84, Political Science
Sarah Curry Rathel '05, Communication
Janet Gilligan Abaray '79, English
2017
Paul Kruchoski '10, Interdisciplinary Studies
Glen Weissenberger '69, Philosophy
2016
Ciera A. Graham, PhD '15, Social Sciences
Norikazu "Tom" Tsuchiya '95, Classics
Elizabeth A. Murray, PhD '88, '93, Anthropology
Col. Timothy A. Adam '86, Mathematics
2015
Gisela "Gigi" Escoe, PhD '83, Physics
Richard "Dick" Friedman '68, Philosophy
Frederick K. Merkel, MD '57, Zoology
Urban F. Meyer '86, Psychology
Mary K. Sargent '45, Chemistry
2014
Mila Baker, PhD '75, '78, '82, Psychology
Diane Grob Schmidt, PhD '81, Chemistry
2013
John Thaeler '79, Geology
Valerie Hotchkiss, PhD '82, Classics
2012
Joseph E. DiGenova '67, Political Science
William Harrison, PhD '74, Geology
Linda Harrison '70, '72, Geology
David P. Witte, MD '74, Biology
2011
D. David Altman '68, Political Science
Matthew J. Doyle, PhD '81, '83, Chemistry
Steven Tracy, PhD '77, '80, '85, English
2010
Linda Bennett, PhD '74, '78, '81, English
Aureal T. Cross, PhD '41, '43 Geology
Jack Laub '50, Psychology
2009
Rabbi Sally J. Priesand '68, English
Hon. John A. West '66, History
2008
Merrill Goozner '75, History
Walt Handelsman '79, General Studies
Thomas Heckler, PhD '81, Chemistry
2007
C. David Allis, PhD '73, Biology
Benjamin Gettler '45, HON '03, Economics
Hon. Mark Painter '70, Political Science
Barbara Shailor, PhD '71, '75, Classics
Stephen G. Wells, PhD '73, '76, Geology
2006
Michele Paludi, PhD '78, '80, Psychology
John Schneider '70, '73, Economics, Political Science
Patricia Glass Schuman '63, English
Phillip Yeager '51, Economics
2005
Dennis D. Berkey, PhD '74, Mathematics
Daniel F. Danzl, MD '72, Biology
Fred L. Fricke, Jr. '62, '69, Chemistry
Margaret J. "Peg" Valentine '71, Romance Languages and Literatures
Margaret M. Zeigler, PhD '92, '92, '95, Geology, Geography
2004
NeeOo W. Chin, MD '77, Psychology
Michael B. Coleman '77, Political Science
Stuart G. Hoffman, PhD '73, '75, Economics
Donna C. Kurtz, PhD '64, Classics
William T. Weaver '76, Political Science
2003
Diane F. Halpern, PhD '77, '79, Psychology
Sidney Peerless, MD '44, '45
Hon. Stephen M. McNamee '64, History
Laurence H. Lattman, PhD '51, '53, Geology
Marian A. Spencer '42, HON '06, English
2002
Sam Harrell, PhD '64, Chemistry
Thomas E. Murphy '64, '67, Economics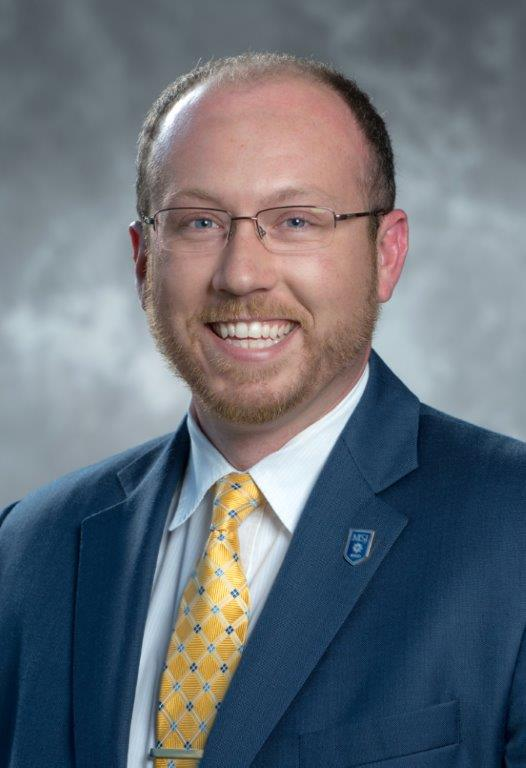 Mark Osborne
Program Director of Alumni & Donor Experience, College of Arts and Sciences