The quarterly update from UC's African American Alumni Affiliate
Message from Dr. Bleuzette Marshall,Vice President of Equity, Inclusion and Community Impact
Onyx & Ruby Gala Celebration
Alumni Spotlight: Torie Wiggins
Student Spotlight: Alberto Jones
Happy New Year, Bearcats!
Are you ready to experience the best 2018 has to offer? Here's to a prosperous and healthy year.
I'm excited to begin this year with the announcement and celebration of our Onyx & Ruby Gala honorees. A little more than 10 years ago, a group of friends and I reflected on our college experiences and the people who made an indelible impact on our lives. As we reminisced, we had a burning desire to say "thank you" in a big way; hence the creation of the Onyx & Ruby Gala.
The Gala was designed to highlight individuals who open doors, set a standard of excellence, and use their impeccable skills and talents to create opportunities for a better tomorrow. They play critical roles in shaping the personal and professional development of thousands of students and young professionals. In addition, these alumni are visionaries and avid supporters and leaders of their communities.
Outstanding in their own right, our Onyx & Ruby honorees are exemplars for current and future alumni to emulate – giving of their time, talent and treasure to ensure our university community not only has an enriching campus experience, but also a place to call home.
Please join me February 24 as we pay tribute to members of our Bearcat family for their unyielding devotion and service. Your attendance will be mean more than words can say. Plus, you'll have a wonderful evening reconnecting with alumni and enjoy the company of our dynamic students. So don't delay. Get your tickets, find an outfit, and bring your friends. Let the celebration begin!
Dr. Bleuzette Marshall, A&S '92, CECH '01, CECH '09
Vice President of Equity, Inclusion and Community Impact
Congratulations to the 2018 Onyx & Ruby Honorees!
It is with great pleasure that we announce the recipients of this year's Onyx & Ruby Awards! Our selection committee received over 30 nominations this year. All of the nominees are deserving, but the following seven individuals' work for our alma mater and in the community stood out above the rest:
Honorable Michael B. Coleman, A&S '77, former mayor of Columbus (OH)
Dr. Ryan Marable, Pharm '13, pharmacist and public health advocate
Judge Fanon Rucker, Law '96, Hamilton County Municipal Court judge
Dr. Vanessa Allen-Brown, Associate Professor, UC College of Education, Criminal Justice, and Human Services
Annette Echikunowoke, A&S '17, current Bearcats indoor Track and Field national champion
Dr. Monica Posey, CECH '99, President of Cincinnati State Technical and Community College
Bakari Booker, DAAP '93, educator in Houston Public Schools
Read more about this year's cohort of honorees.
Alumni Spotlight: Torie Wiggins

Torie WigginsThis actress and Atlanta native has worked with many movie and entertainment giants – from Robert Redford to Danny Glover to Mariah Carey. And with all of her success, her most meaningful role has roots right here in Cincinnati. Read below about Torie Wiggins (CCM, '02) and the advice she would give to young actors breaking into the industry.
Name: Torie Wiggins
UC College: College-Conservatory of Music, 2002
Title, Employer: Professor – Department of Theatre, College of Creative Arts at Miami University (Oxford)
Hometown: Cincinnati, Ohio
Campus involvement:
I was Artistic Director of Black Arts Collaborative, member of Shades of You (fun fact: I co-wrote the mission statement and song), and active in Zeta Phi Beta Sorority, Inc. - Beta Eta Chapter. I was also a resident advisor for Calhoun Hall.
What ultimately led you choose to continue your education at the University of Cincinnati?
At the time, it was one of the highest-rated theatre schools in the country, and I wanted excellent and competitive training. The talent-based scholarship sealed the deal.
Bearcats have seen you many places, from the stage to the silver screen. What was your most rewarding performance to date?
My one-woman show Your Negro Tour Guide, based off of the column by Kathy Y. Wilson in the City Beat. It's the thing I'm most proud of. Close second would be another solo show, Twilight: Los Angeles 1992, a show based on the aftermath of the LA riots after the Rodney King verdict.
As a black person in the performing arts – specifically a black woman – what advice would you give to others who may want to pursue a similar career path?
You have to know your worth. If you believe you're the best, you'll be among people who are, because they believe it too. Those are the people who are successful. Mediocrity won't cut it in this business. If you're working hard at your craft, and you KNOW you're good, don't let anyone tell you anything less!
Outside of your studies and other obligations, where was your favorite place to hang out on or around campus?
The McDonald's in Tangeman and Mr. Jim's for breakfast!
What advice would you give a freshman who is just starting their college experience?
Get involved! The great thing about college is the entire experience, not just the classes. It's the perfect place to become a well-rounded citizen of the world. Join organizations, clubs, councils – get out and connect with people, and you'll have those relationships for life.
Student Spotlight: Alberto Jones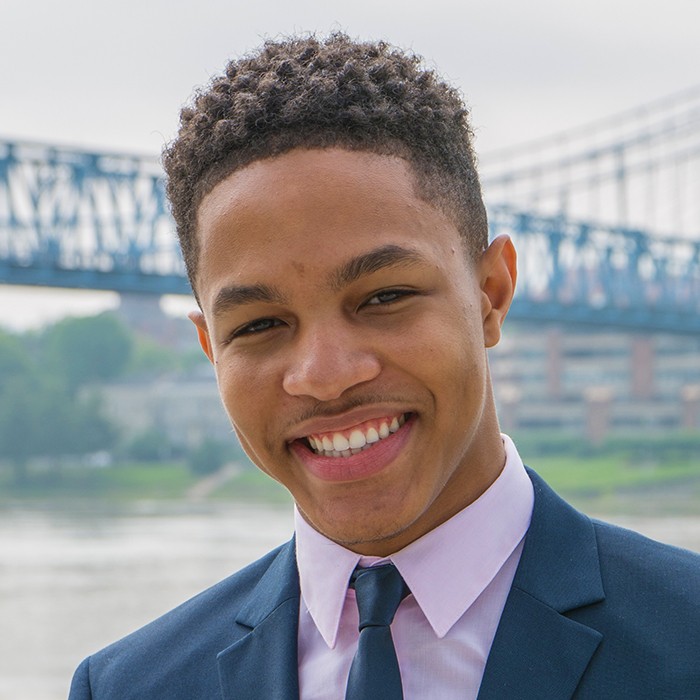 Jones with approximately 600 active student organizations available, there are a many ways a student can get involved in co-curricular activities. But only one student – every two years – is chosen by the Governor of Ohio to serve his or her fellow student on the highest level of UC's governance. Read on to see how this Dayton native is making the most out of his opportunities to lead in a very meaningful way.
Name: Alberto Jones
UC College: Arts & Sciences, Journalism, 2019
Hometown: Dayton, Ohio
What student groups do you participate in?
I am the president/co-founder of the revived UC's Association of Black Journalists, president of UC's Chapter of the Society of Professional Journalists, and Editor-In-Chief of the United Black Student Association's Noir Magazine, the black student digital magazine.
The diverse opportunities UC has to offer both academically and professionally. I've had so many great opportunities in my collegiate career where I have gained skills that I will take with me throughout life.
As the student representative on the UC Board of Trustees, what ways do you hope to impact the student experience at UC?
As the Undergraduate Student Trustee, I hope to impact the student experience at UC by helping to build students into student leaders. The university exists for its students and from student activism, there has been a lot of impact on the UC community. I believe that being a student leader prepares you for life. There are many UC alumni, who were once student leaders, that are now impacting the world.
What are your career goals?
My ultimate goal is to become a multimedia journalist and a motivational speaker in the future. I dream of one day having my own talk show and building a media empire like Oprah Winfrey. As a journalist, I do believe that I'll be able to advocate for others by telling their stories, but I also plan to attend law school. I believe that a law degree will give me a bigger platform to advocate for people, without sanctions. Many people advocated for me; now it's my turn to do the same. I believe those who have a voice must speak for the voiceless.
What makes you proudest to be a Bearcat?
I attend a university that has poured into me academically, personally and professionally. With the prestigious education I have received from UC, I know I'll be able to take the world by storm. And most importantly I'll be able to educate, empower, and enrich the lives of others, as UC has done for me.
Message from the Chair
Alumni Spotlight: Rep Reginald Bolding, CECH '08
Student Spotlight: Ciara Cruder
Upcoming Events
My name is Yasmin Chilton and I am blessed to serve as Chair of the UC Alumni Association's African American Alumni Affiliate for the 2017-18 term. 4A made incredible strides under the leadership of Marcus Bethay and his executive committee, re-energizing our constituents through his "REP4A" message. Signature events were created and re-established, scholarship funds were raised to support students, we remained involved in university and community affairs, and key partnerships kept our group engaged and enlightened. I'm excited for the opportunity to build on this work as we seek to strengthen the bonds between our alumni and our university.
As our new executive committee transitions into its roles, please connect through the 4A Twitter, Instagram, and Facebook accounts, which alert you about upcoming meetings, events, issues and opportunities. They also help us share our thoughts on trending topics or suggest ideas for civic engagement.
While we are justifiably proud of our accomplishments, we realize there is always more to be done. Recently we have experienced the tragic shooting of Sam Dubose which sparked heightened dialogue within the university community and yielded comprehensive public safety reforms at UC; students speaking up about under-representation of African American students and faculty and its ramifications; and administrator dismissals which prompted additional conversation to seek greater understanding. Through all of this, we continue to encourage increasingly inclusive and collaborative efforts to ensure UC is the best university and community citizen it can be.
Throughout the next year, I hope to make 4A more accessible, more charitable, more diverse, and a lot more fun. The organization serves and represents anyone ranging from new graduates to Golden Bearcats (50+ years!), and we hope more and more alumni become active and engaged. UC's trajectory is impressive, and new possibilities are limitless provided we work together as a unified UC family. I am optimistic and eager to get started. If you have any questions, please reach out to me or Justin Gibson (justin.gibson@uc.edu), the UCAA's Associate Director for Diversity Outreach and Engagement.
Have a great summer, and Go Bearcats!
Alumni Spotlight: Rep. Reginald Bolding, CECH '08

If you would have told him when he graduated from high school that he would live in Phoenix and have an office at the Arizona Statehouse, he might not have believed you. Actually, he might have! Click on the link to learn how Reginald's career led him to become one of our country's youngest and effective lawmakers.
Name: Reginald Bolding Jr.
UC College and Grad Year: CECH, 2008
Title, Employer: Arizona State Representative; President & CEO, The North Star Foundation for Youth Advancement
Current city of residence: Phoenix, AZ
Campus Involvement: Secretary, Senior Class 2008, CECH Ambassador, UC Track & Field (2004-2006), Vice President, Criminal Justice Society
What led you to attend the University of Cincinnati?
I was impressed with the quality of the Criminal Justice program at the University. Additionally, I fell in love with the city and people on campus. Moreover, the UC Track & Field team had a great culture of commitment, academics and athletics.
After graduating with your Criminal Justice degree, you turned down law school to become a teacher. What drove you to make that decision?
My decision to go to law school was two-fold. One, I wanted to stand up and fight for people who couldn't fight for themselves. Second, after growing up poor I wanted to pursue a career that would provide me with financial security to raise a family. In my mind, law school was the right fit to do both of these things. The more I grew as a person, the more I knew I had the ability to not only accomplish my personal goals, but I had a talent for helping other people accomplish theirs. I began to realize I was an exception in many cases as an African American man, who grew up poor, about to receive a full-ride law school scholarship, when many of my high school classmates never even had an opportunity to attend college. That really pushed me to ask the question why. For me, it boiled down to lack of access, opportunities and resources. I felt that as a teacher I could help students who came from similar circumstances as myself to get those things. Fortunately, it paid off.
You are a member of the Arizona House of Representatives. What unique ways does your job allow you to serve others?
I truly love the work I do as a member of the Arizona House of Representatives. My job allows me to serve others in a number of ways. First and foremost, as a policy maker, I'm tasked with introducing and voting on legislation that I believe will help make Arizona a stronger place to live for everyone. I spend a lot of time talking with community and industry stakeholders to ensure we (myself and my colleagues) are making the right the decisions. Additionally, my job allows me to fight for the injustice or advocate for constituents who need support. That ranges from issues in healthcare to environment, criminal justice to taxes. There truly are never two days that are the same.
What advice would you give a freshman who is just starting their college experience?
Sign up for everything, attend every event you can and keep an open mind. I had no clue I would be living in Arizona and serving as an elected official. Through networking and acquiring knowledge about more than just your major, it will make you a very valuable member of any team or community. Don't get caught up in what you want to be, focus on what impact you hope to create and that will lead you in the right direction.
Outside of your studies and other obligations, where was your favorite place to hang out on or around campus?
My favorite place to hang out, turns out to be my favorite restaurant as well, which is Penn Station. It was amazing.
Student Spotlight: Ciara Cruder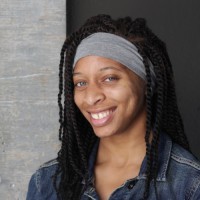 Storytelling is nothing new for Ciara, a rising Senior in the College-Conservatory of Music. But her training in the Electronic Media program fueled her creativity for using multimedia to share a good story. 
Name: Ciara Cruder
UC College, Major, and Anticipated Grad Year: College-Conservatory of Music, majoring in Electronic Media. Graduating in April 2018.
Hometown: Columbus, Ohio
You have a reputation of being one of the best student filmmakers on campus. What sparked your interest in videography and filmmaking?
It pretty much all started when I switched my major. When I first came to UC, I was studying Interior Design in DAAP, but I realized I really had a passion for telling stories. I switched to E-Media not knowing a single thing about cameras or editing programs, but creating and sharing great stories was something that I knew I could do. After I discovered all the possibilities of expressing myself with a camera and the power of a good story, there was no turning back.
What student groups do you participate in?
I'm Co-Marketing Director for the United Black Student Association, I'm Membership Chair for the Lambda Society, and I'm a member of Bearcast Media where I host my own radio show, 'What You Know 'Bout This?'
What ultimately led you choose to continue your education at the University of Cincinnati?
At first, I came to UC because of DAAP being a top ranking design school, but even after I changed my major I still wanted UC to remain my home because of the beautiful campus and the supportive environment.
What are your career goals?
My current goal is to make an award-winning music documentary one day. I also want to master the skills of editing and maybe start my own production company.
What makes you proudest to be a Bearcat?
I'm proud to be a Bearcat knowing that I have been provided with the opportunities and resources to better myself and to make a positive impact on my campus and in my community.