The Speaking Stone: Stories Cemeteries Tell
Sunday, April 18
5 p.m.
Virtual
Join Greg Hand as he interviews Michael Griffith, UC Professor of English, about his new book The Speaking Stone: Stories Cemeteries Tell.

The Speaking Stone: Stories Cemeteries Tell is a literary love letter to the joys of wandering graveyards. While working on a novel, author and longtime Cincinnati resident Michael Griffith starts visiting Spring Grove Cemetery and Arboretum, the nation's third-largest cemetery. Soon he's taking almost daily jaunts, following curiosity and accident wherever they lead. The result is this fascinating collection of essays that emerge from chance encounters with an interesting headstone, odd epitaph, unusual name, or quirk of memory. Researching obituaries, newspaper clippings, and family legacies, Griffith uncovers stories of race, feminism, art, and death.

Rather than sticking to the cemetery's most famous, or infamous, graves, Griffith stays true to the principle of ramble and incidental discovery. The result is an eclectic group of subjects, ranging from well-known figures like the feminist icon and freethinker Fanny Wright to those much less celebrated— a spiritual medium, a temperance advocate, a young heiress who died under mysterious circumstances. Nearly ninety photos add dimension and often an element of playfulness.

Click here to purchase the book.

About the author: Michael Griffith is the author of the novels Trophy and Spikes and the story collection Bibliophilia. He is professor of English at the University of Cincinnati College of Arts and Sciences.

Participants must register using the link above. Registration is complimentary. Registrants will be provided credentials to join the virtual event. Make sure we're on your safe sender list so the email hits your inbox!

Register by Friday, April 16.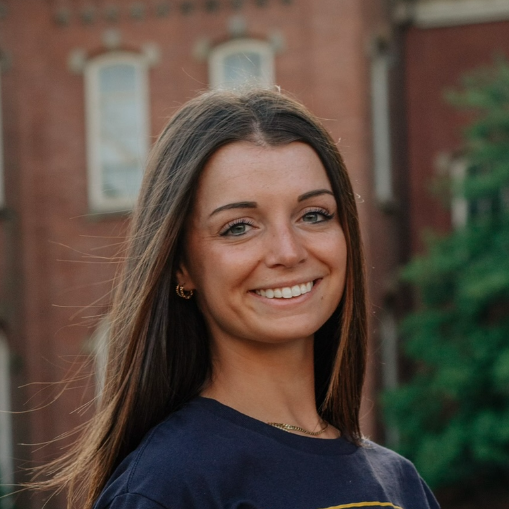 Anna Gormley, Bus '17
Program Director of Alumni & Donor Experience, College of Allied Health Sciences and James L. Winkle College of Pharmacy