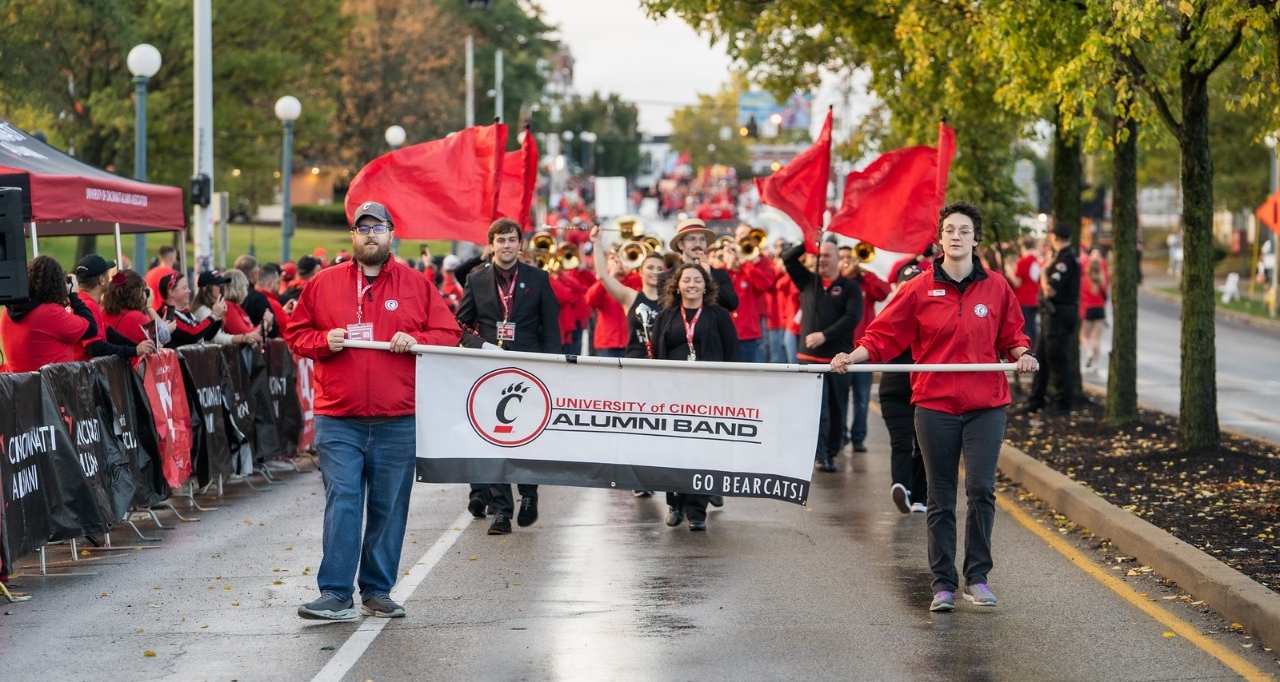 Alumni Band Homecoming Activities
Registration for this event has closed, please contact Brian Pack with any questions. If you would like to pay your 2023-24 UCBAA membership dues, please click here. 

Friday Night Rehearsal
5 p.m.
Rockwern Band Center
147 Corry Blvd.
Cincinnati, OH
We will have a rehearsal Friday at the Rockwern Band Center at 5 p.m. During this time, you will have an opportunity to run through the music for our parade and halftime performances.
Alumni Band Reunion
6 - 11 p.m.
The Taproom on Ludlow
360 Ludlow Ave.
Cincinnati, OH
Our Friday Night Reunion this year is the perfect opportunity to connect with your fellow band alumni! Enjoy a taco bar and local brews at the Taproom on Ludlow, just down the hill from campus. We will also hold our annual raffle and give UCBAA updates at this event.
This event is $30 per person; advanced registration is requested by Sept. 30.
Alumni Band Gameday Activities
Parade - 8 a.m.
Kickoff - Noon
We have many different ways to get involved—our reunion, parade and tailgate are just some of your choices. Join the Alumni Band to celebrate the 70th year of the CHARGE down the steps as the Bearcats join the Big 12 conference. Reconnect with friends, relive your glory years and join the UCBAA for events of your choice.
March in the Homecoming Parade *Requires registration
With pride, join your fellow Alumni Band bearcats in marching during the Homecoming Parade! You do need a UCBAA jacket to perform. Final details will be communicated once kickoff time is set.
*Alumni Band will offer trucks for those with accessibility needs, in addition to registering, please notify Brian Pack.
Halftime Alumni Band Performance *Requires registration
Join Alumni Band members as they march with the undergraduate band for a combined halftime performance. Will you be one of them?
*Alumni Band will offer a legacy line for those with accessibility needs. In addition to registering, please notify Brian Pack.
Anyone marching in the Homecoming Parade or performing at halftime is expected to attend a rehearsal on Saturday, Oct. 14 in the morning prior to the parade. We will also have an optional music rehearsal on Friday, Oct. 13 in the afternoon at the Rockwern Band Center. Times TBA; Saturday morning rehearsal is typically 6 hours prior to kickoff, before parade lineup.
All participants will also need a game ticket to enter the stadium. Please the UC Band Alumni Association website for ticketing information.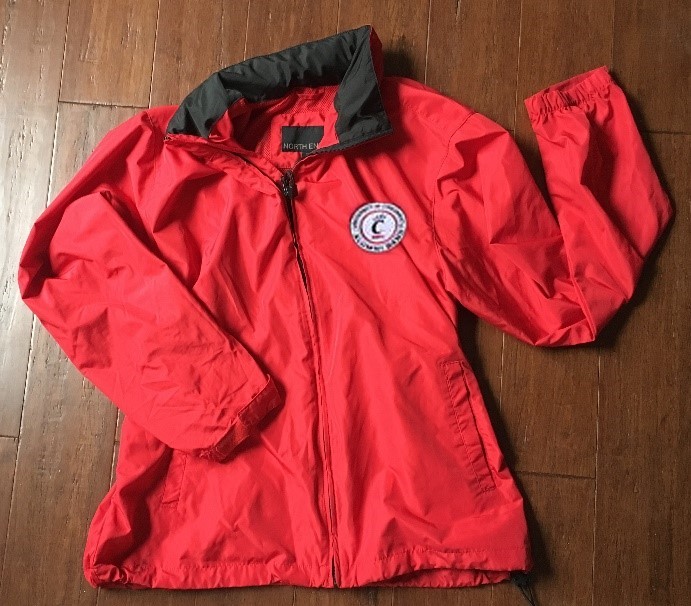 UC Alumni Band Jacket *Requires registration
To march in gameday activities, the UCBAA requires that you wear our official uniform jacket. Legacy versions are acceptable. We will have a small number available for rental on gameday, but highly encourage purchasing your own. Deadline to purchase is Sept. 16.
Color guard members: Contact Julie Simmons for uniform information.
Bearkittens: Contact Sandy Moeller for uniform information.
*If you are a 2022-2023 graduate, please choose the "Senior Jacket" registration option to receive a complimentary jacket. 
Instruments *Requires registration
Please provide us with your instrument information in the registration. UCBAA owned instruments will be assigned on a first come, first serve basis, but we do ask that you provide your own mouthpiece, reeds, and/or sticks if borrowing an instrument. A donation is requested to offset the cost of maintenance and replacement.
If you are a color guard performer, please contact Julie Simmons to reserve your equipment.  
Need to pay your UCBAA membership dues?
To participate in gameday activities, the UCBAA requires that you are a dues-paying member. Please visit ucalumniband.org/membership to see a list of current members.
Please contact Brian Pack directly with any questions.
Accessibility & Accommodations
If you are physically unable to march and carry your instrument or flag for the entire duration of the parade route and/or the entire field performances, please consider:
Requesting a spot in a parade vehicle.
Contacting Brian Pack if you would like to ride in a UCBAA vehicle during the parade. We will do our best to accommodate all who ask, but in the event of limited capacity, we will honor requests on a first-come, first-served basis.
Participating in our non-marching "Legacy Line" for the halftime performance. Contact Brian Pack

 to indicate that you would like this option.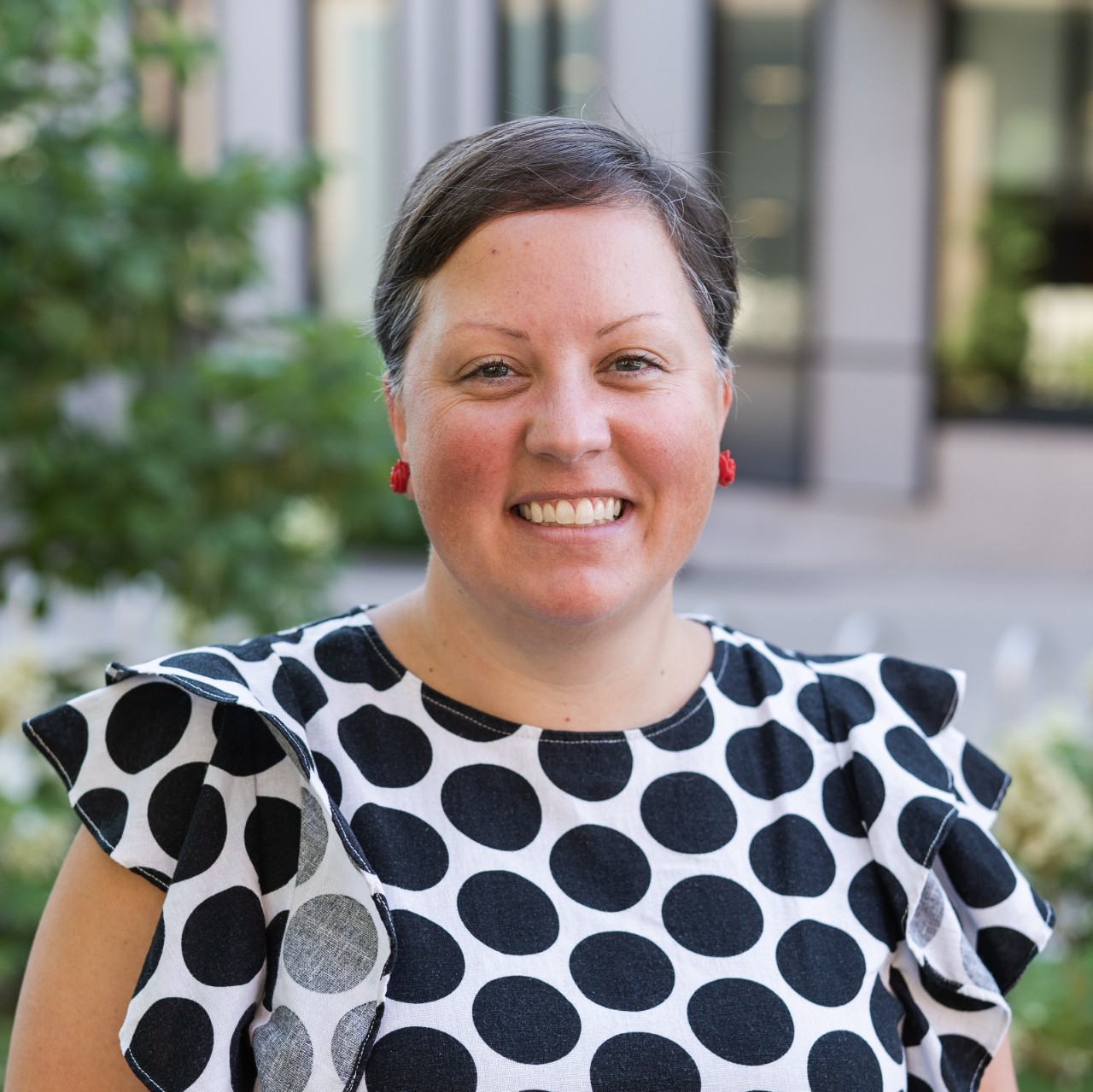 Maggie Ibrahim-Taney
Program Director of Alumni & Donor Experience, Special Interest & Athletics Engagement